The Counter-Intuitive Nature of Spending Money to Save Money with Commercial Solar
Spending money to save money. The concept seems counter-intuitive, but shrewd business owners understand this very well. Even in boom times, these business owners look to control costs, so when times get tight costs are controlled and manageable. 
Electricity is a non-discretionary item for businesses. "The cost of doing business," as one California manufacturer put it. These costs in good times don't seem as impactful but when it's time to hunker down, the necessity can make or break a P&L sheet. 
The fastest growing method to non-discretionary costs is through commercial solar and energy storage. In December 2019, California hit its 1 millionth solar interconnection. Billions of dollars worth of free electricity are being generated every year by California businesses. Valuable dollars saved that increase their net operating income and cash flow. 
Let's look at some reason that even in a pinch, commercial solar is a smart choice.
Zero Out of Pocket Financing
Bank financing prime rates (3.25%) are lower in 2020 than in 2019 (4.25-5%). At an almost all-time low, borrowing money is cheaper than ever. Banks have lowered the threshold for borrowing to increase lending. This makes going solar a "zero out of pocket" investment. 
Cash Flow Increase
Offsetting energy creates net savings even after a monthly financing payment. The graph below illustrates a "real life" cash flow for a system that offsets 57% energy usage plus Solar ITC, and Federal Bonus and State Depreciations.
Hedging Against Rising Electricity Costs
Commercial solar and energy storage (solar only or with storage) are a highly effective method for hedging against fast rising electricity costs. A typical system offsets anywhere from 50-85% of a business's usage. 
Electricity costs are expected to continue to rise. The graph below shows historical and projected rate growth.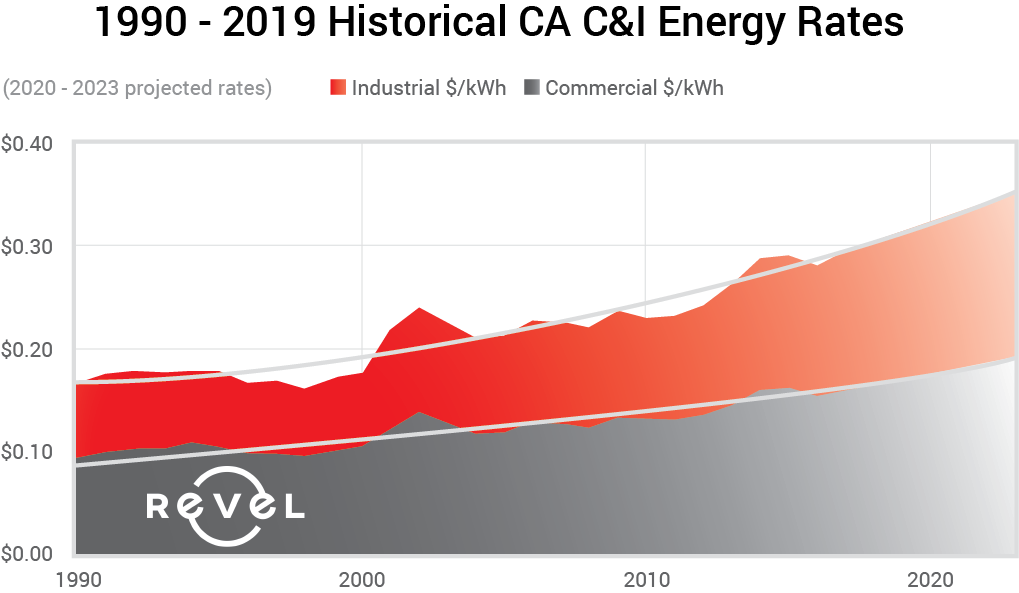 Affordability
Going solar is more affordable than ever. Valuable incentives like the Solar Investment Tax credit, Federal Bonus Depreciation, State Depreciation, and other rebates when applicable lower the net cost significantly. 
Payback periods commonly range from 2-5 years. Payback periods apply mainly to cash purchases. Businesses that invest in solar and/energy storage with Bank Financing or CPACE see positive cash flow from month one.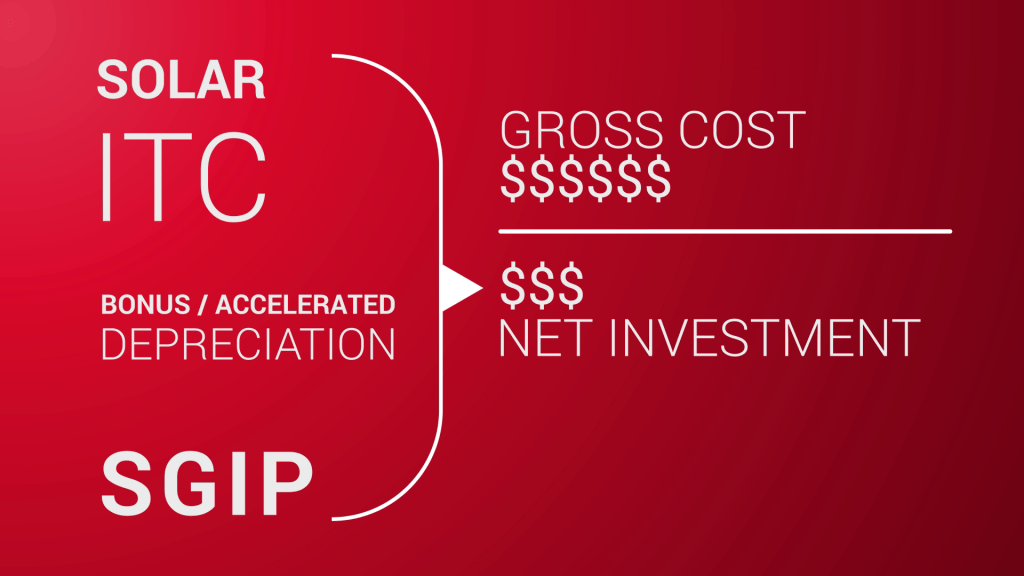 Conclusion
Investing now in commercial solar positions a business with lower non-discretionary costs and increased cash flow. The extra cash saved with commercial solar can be used to hire critical talent, invest in innovative equipment or store away for a rainy day. 
Consulting a commercial solar specialist is free and simple. Revel Energy specializes in custom designing a system for California commercial and industrial businesses. Sizing and design by an experienced commercial solar specialist ensures the business receives maximum return on investment.
For more information go to www.revel-energy.com/my-solar-investment