California farmers know very well the importance of utility management. They can tell you almost exactly how much water is used monthly to grow their crops. Irrigation pumps electricity usage is less known but equally as important.
Utility costs for California farmers are constantly rising. Managing these costs is crucial for farmers' success. Each year power companies like Pacific Gas & Electric (PG&E) raise power rates (on average around 6%). Compounded yearly, these expenses grow exponentially.
Irrigation pumps often take the lion's share of power. Revel Energy, a leader in agriculture solar power, recognized this and developed a simple to use table to help California farmers easily estimate their irrigation pumps electricity usage. The first step to lowering electrical costs.
"We spend a lot of time with local farmers, and a common topic is there irrigation pumps electricity usage," explains Mehmet Cercioglu, an agriculture solar specialist for Revel Energy. "We found many farmers wanted to better understand their pumps' electricity usage. With the help of California farmers, we came up with a calculation table for them to easily estimate their usage and electrical costs."
The following table makes some assumptions and is designed to estimate electricity usage. It is not exact, and every farm has its own unique factors. The table is a tool used as part of a bigger process for managing rising electrical costs. Farmers interested in better understanding their exact power consumption, a free electrical audit by Revel Energy is the best option towards lowering power costs.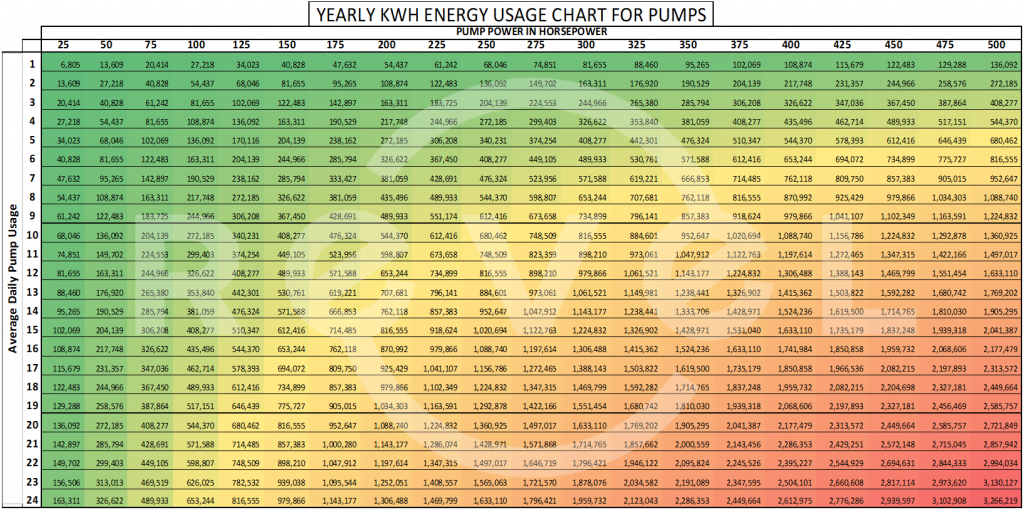 One California Pistachio Farmer running a 400 HP Irrigation Pump averaging 12 hours of daily usage consumes an estimated 1.3 million kWh a year. To find this on the table you locate the intersection of 400 HP (X-axis) and 12 HR Daily Pump Usage (Y-axis).
California farmers spending $1,500 or more in monthly electricity charges stand to benefit greatly from agricultural solar systems and other renewable energy technologies. Incentives like the 26% Federal Tax Credit lowers the initial investment for owners and operators. Many other incentives are available, and farmers are encouraged to reach out to an agriculture solar professional like Revel for a free consultation.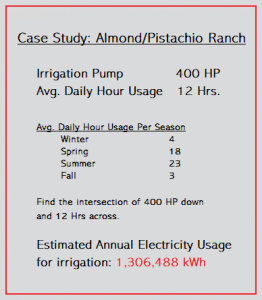 With this table, California farmers begin to address rising electrical costs. Other on-farm technologies like energy storage systems knock off peak charges and LED lighting decreases electricity consumption. Most farmers would benefit from innovative technologies like on-farm renewable energy.
Revel is on a mission. Dedicated to renewable energy solutions since 2009, Revel Energy was formed to provide Agricultural, Commercial and Industrial businesses with alternative energy beyond solar. Revel stands out from the competition by paying attention to what makes good business sense to each individual client, implementing a wider range of technologies to free up capital and make businesses sustainable and more profitable.
For Press Inquiries:
Ken Fournier | Marketing Manager
949-668-0557
kfournier@revel-energy.com