WEST COAST GASKET COMMERCIAL SOLAR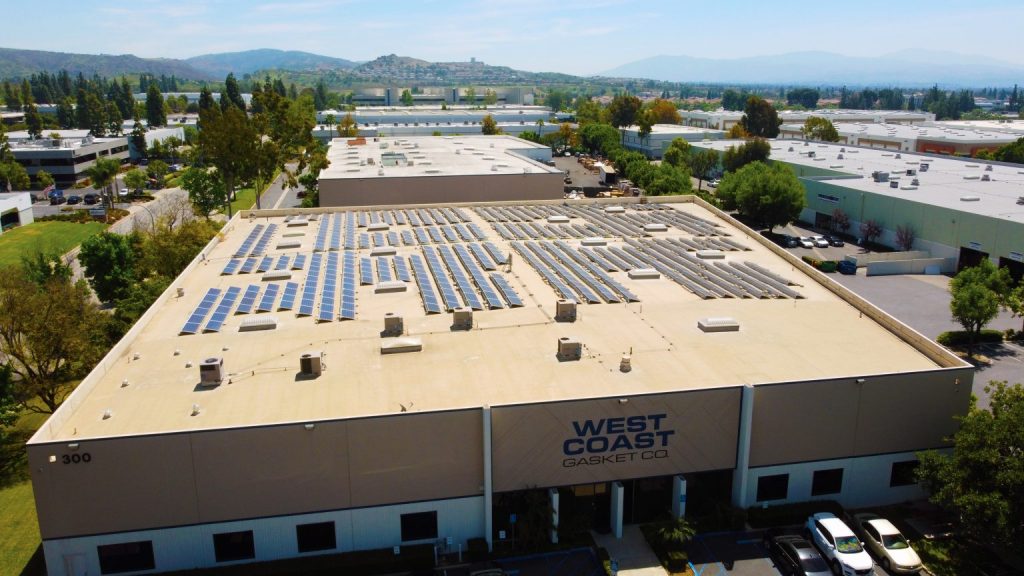 Project Location: Brea, CA
Description: Commercial Rooftop Solar System
System Capacity: 207.4 kW
System Size: 680 Solar PV Modules
Solar Panel: 305 W Monocrystalline
Annual Power Cons. (before): 370,000 kWh
Est. Power Savings (after): 85% Energy Savings
West Coast Gasket Commercial Solar
West Coast Gasket is using their commercial solar installation to lower its operating costs and electricity usage. This industry leader manufactures specialty gaskets and other metal products at their Brea, California location.
More than just a gasket company, WCG uses an array of equipment to manufacturer their products. The Brea, CA company offers stamping, molding, lathe cutting, metal and plastic machining and other specialty services. All of this translates into a hefty electricity bill.
In 2018, they contracted Revel Energy to help them better understand their electricity usage and ultimately lower their electricity costs. The Revel Energy team installed a 207.4 kW commercial solar system. The system produces an estimated 315,010 kWh annually (about $50,000 worth of electricity). In the first year, the gasket manufacturer is expected to save 85% of their power usage from SCE.
With the data from a thorough energy audit, Revel's guidance, West Coast Gasket was able to shift some of its equipment scheduling to lower its overall energy usage. This created extra savings for their operating costs.
WCG Commercial Solar Case Study PDF
TURNKEY COMMERCIAL GRADE SOLAR, ENERGY STORAGE, LED LIGHTING AND MORE.
PROFESSIONAL GUIDANCE
CUSTOM TAILORED PLANNING
CONSTRUCTION & INSTALLATION
CSLB #1106092