Customer Electricity Costs Case Study - San Diego Gas & Electric (SDG&E)
SDG&E's Rapidly Rising Electricity Rates For California Commercial Customers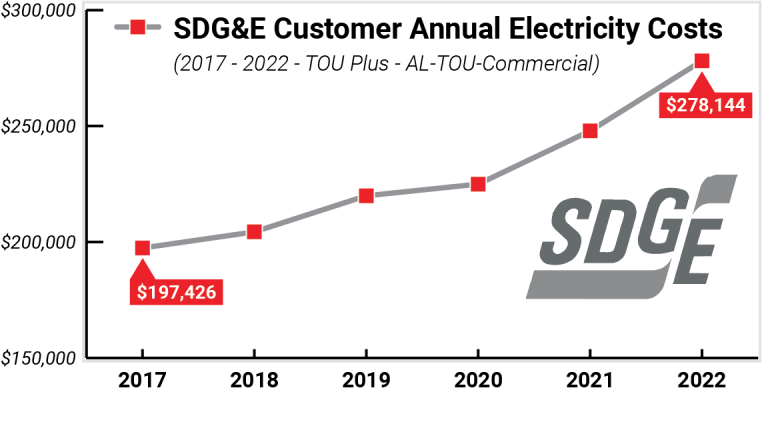 California businesses have seen electricity rates rapidly rising to new heights, prompting them to look for ways to recover those costs. The majority of California's electrical grid is serviced by California's three investor-owned utilities (IOU's); Southern California Edison, Pacific Gas & Electric, and San Diego Gas & Electric.
Revel Energy wanted a tangible example of how much these rates have changed, so we looked into the rate history for prospective clients within SDG&E's service area. This business is one example of many, and while not every rate change resulted in an increase in costs, the trend still shows a shocking 41% increase just from 2017 to 2022, an average increase of more than 8% per year.
Competitive Businesses Looking for Commercial Solutions
A History of Consistently Increasing Costs from Investor-Owned Utilities
Looking at a broader perspective on rate increases, we averaged together the California IOU's rate increases across similar commercial and industrial electricity rate plans over the last 20 years.
Revenue requirements for IOU's have put pressure on rates, costs like modernizing the energy transmission system and transmission use charges are passed on to all ratepayers, residential, commercial, industrial and agricultural – every sector is effected.
Following significant increases over recent years, SDG&E filed a general rate case with the California Public Utilities Commission, again seeking to increase electricity and gas rates by at least 8.7% in 2024. Following ratepayer outrage, this action has spurred a collective resistance against this Investor Owned Utility with the highest per-unit electricity prices in the U.S., that annually shares record profits with investors.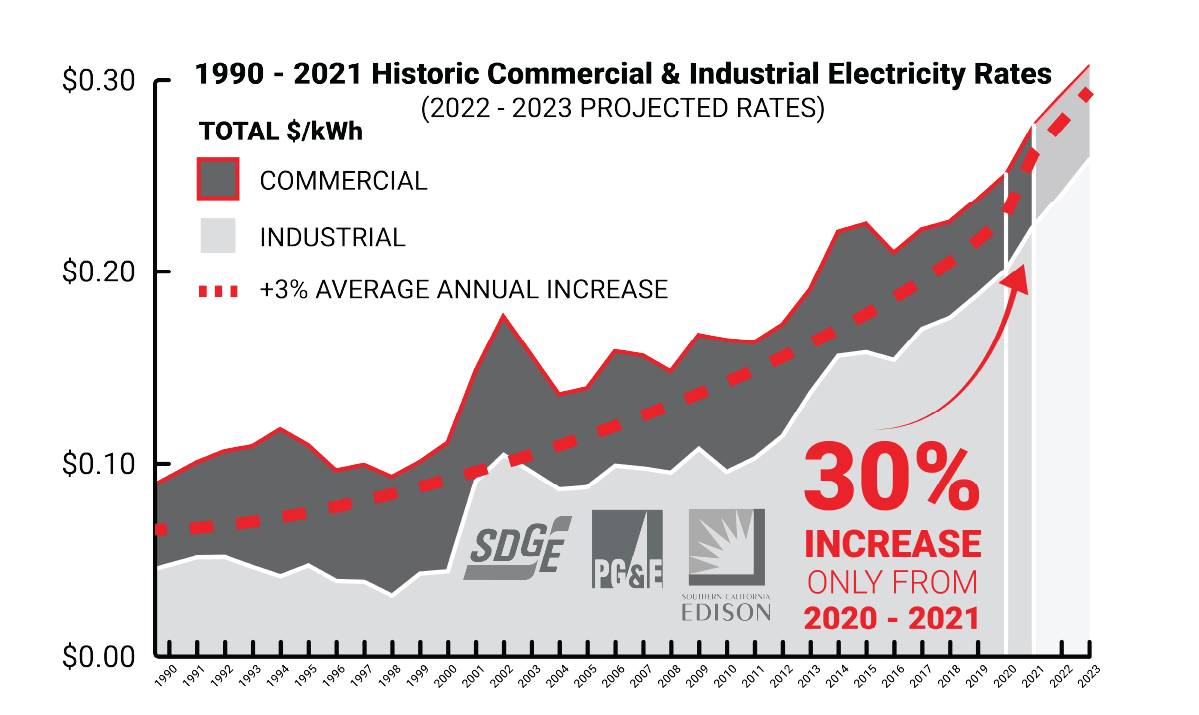 In recent news, California briefly ran on 100% clean energy for the first time, with solar providing a majority of the state's electricity demand on a sunny Saturday afternoon. California and the world still have quite a way to go to achieve climate and sustainability goals, but its clear that increasing electricity are driving businesses to look for sustainable solutions.
Revel Energy's team of commercial, industrial and agricultural solar specialists offer turnkey solutions for California businesses to lower their electricity costs, ultimately increasing cash flow. For a free comprehensive analysis, contact a Revel Energy commercial solar specialist today.
OUR SERVICES
TURNKEY COMMERCIAL GRADE SOLAR, ENERGY STORAGE, LED LIGHTING AND MORE.
PROFESSIONAL GUIDANCE
CUSTOM TAILORED PLANNING
CONSTRUCTION & INSTALLATION
CSLB #1038433
See how these businesses saved on electricity, gained valuable tax credits and rebates with commercial solar and energy storage.
Client Testimonial: Kelemen Company
Corporate Business Park in Irvine, CA has created significant electricity cost savings through commercial solar installed across the 5-building business park.
Client Testimonial: Tice Gardner & Fujimoto LLP
See how this CPA firm saved on electricity and gained valuable tax credits through commercial solar that they used to keep cash in the businesses.