DIAMOND ENVIRONMENTAL SERVICES COMMERCIAL SOLAR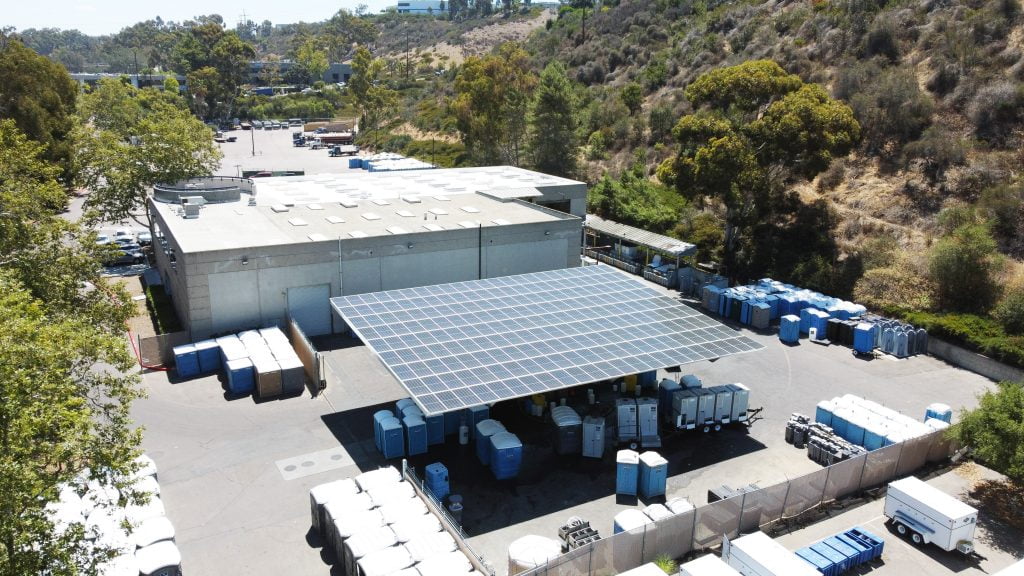 Project Location:
San Marcos, CA
Description:
Solar Canopy
System Capacity:
81 kW
System Size:
144 Solar PV Modules
Solar Panel:
375 W Monocrystalline
Lifetime Energy Generated:
$1 Million
Est. Power Savings (after):
30% Energy Offset
Diamond Environmental Services Commercial Solar
Headquartered in San Marcos with a new commercial solar system, Diamond Environmental is dedicated to providing various environmental services throughout California. Grown over the last 20 years from providing pumping and porta-potty rentals to providing many different environmental service offerings.
Diamond wanted to take control of their rising electricity costs and secure a sustainable future by using commercial solar, so they tasked Revel Energy to design a custom energy solution for their facility. The solar canopy has its own benefits in addition to generating energy for the facility, providing crucial shade and protection from the elements.
Taking advantage of multiple benefits and programs like the Solar Investment Tax Credit (ITC) and Net Energy Metering (NEM), this new system offsets 30% of their electricity use by earning credits for overproduction during the day that pays for use at night when the system isn't producing.
More California businesses, like this one, are realizing the benefits of commercial solar. In 2022, California was briefly powered by 100% clean energy for the first time, two-thirds of that demand was supplied by solar.
Diamond Environmental Services establishes their commitment to sustainability with this bold decision to look forward toward a better future for their business with reduced energy costs and a smaller carbon footprint – thanks to commercial solar.
Diamond Environmental Services Case Study PDF
TURNKEY COMMERCIAL GRADE SOLAR, ENERGY STORAGE, LED LIGHTING AND MORE.
PROFESSIONAL GUIDANCE
CUSTOM TAILORED PLANNING
CONSTRUCTION & INSTALLATION
CSLB #1106092