Two facts are common knowledge in California. The state is manufacturing less, and electricity costs continue to grow. Revel Energy recognizes this inverse relationship and wanted to dive deeper into the hard number. All data was collected from www.eia.gov and can be looked up by anyone.
Since 1990 total electricity delivered to California Manufacturers has declined 33% while total revenue collected for electricity has grown 25%.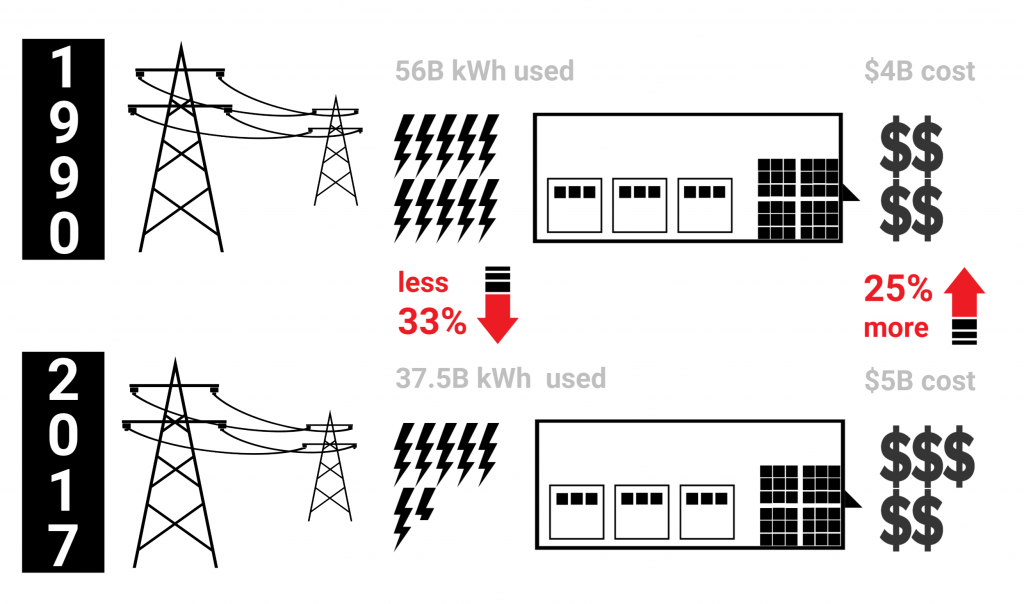 Usage is down by California Manufacturers.
1990 Used Electricity by Manufacturers: 56 billion kWh
2017 Used Electricity by Manufacturers: 37.5 billion kWh
Total money spent on electricity by California Manufacturers is up.
1990 Revenue from Electricity Sales to Manufacturers: $4 billion
2017 Revenue from Electricity Sales to Manufacturers: $5 billion
There are a handful of factors at play for the decrease in usage. Equipment and machinery have become more efficient. There are less businesses manufacturing in California. Many that remain are generating their own electricity. Read more here about one California Manufacturer that cuts electricity cost with commercial solar.  As for the increase in revenue collected by providers, rates have climbed faster in California than any other state.
Other industries are experiencing a similar trend, just less intense. Fast growing electricity costs is a normal experience for all Californians, residential or commercial.
These rising costs cause a breaking point for California Manufacturers. Operators are facing two options, leave the state or drastically cut costs. Renewable energies, like commercial solar, are more affordable than ever and one possible cause for the slowing of manufacturers fleeing the state.
Revel is on a mission. Dedicated to renewable energy solutions since 2009, Revel Energy was formed to provide Commercial, Industrial and Agricultural businesses with alternative energy beyond solar. Revel stands out from the competition by paying attention to what makes good business sense to each individual client, implementing a wider range of technologies to free up capital and make businesses sustainable and more profitable. CSLB #1038433