California's electricity customers pay some of the highest rates in the country. So far this year thousands of commercial customers (and millions of residential) have incurred historically high rate increases. 
Several proposed increases have also been submitted to the CPUC with expectations of their approval. California is expected for summer 2020 to see the highest rates in the state's history. This means significantly more costs for California businesses. 
Increases Already Incurred in April and May 2020
In an effort to increase revenue, California's "Big 3" Investor Owned Utilities (IOUs) are raising bundled electric rates. For example, As of April 13, 2020, Southern California Edison customers (both commercial and residential) saw an average 7% increase in rates across the board. 
The rate increases for California's IOUs are part of a 2018 approved plan to increase revenue for California's outdated grid maintenance. Read more about California's outdated grid here. The rate increases could not come at a worse time for California businesses. Amid the Covid-19 Pandemic, these rate increases will coincide with summer rate, typically the highest TOU rate for California commercial, industrial and agricultural businesses. 
Below is an example of SCE customers' rate changes.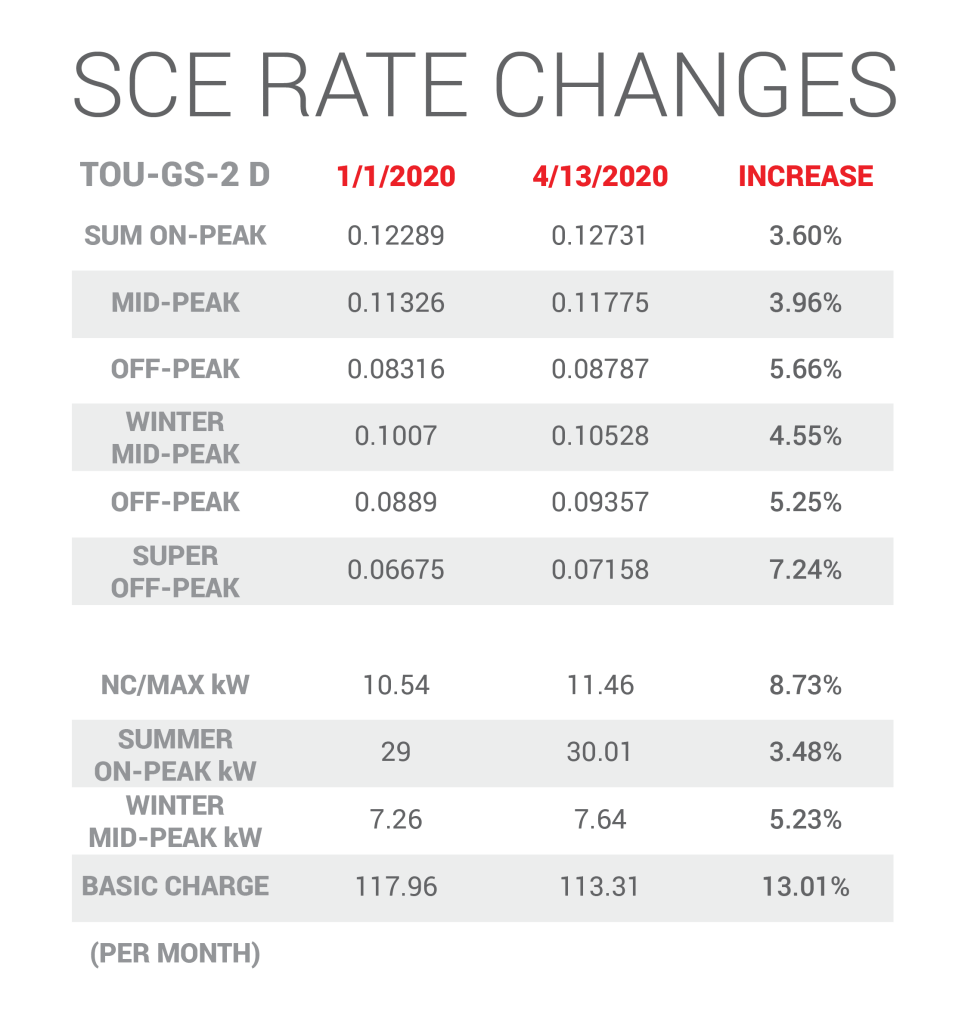 PG&E customers saw a bundle energy rate increase of at least 3.4% on May 1, 2020. In the midst of a challenging economy, electricity prices continue to rise. Commercial customers will also see rate increases on fixed costs as well as fewer incentives for items such as EV charging stations. 
Proposed Increases for 2020, 2021, 2022
IOUs are requesting significant increases in delivery, generation, and other fixed charges effective immediately. Should these increases be approved (approval could come any day now) customers will see fixed rate increases of 12% or more. 
For example, in a request submitted by PG&E, billions of extra dollars will be raised if approved. These increases will be added to the already approved increases from earlier this year. 
"PG&E had requested a rate increase in its General Rate Case application (A18-12-009) for 2020, 2021, and 2022.  Under their proposal, base rates would increase by $1,058 million or 12.4% for 2020 with subsequent increase of $454 million and $486 million for 2021 and 2022.  Base rates are fixed costs that are not affected by fluctuations in the amount of energy sales…" read the full release here.
Historical Growth:
The new electricity rates for California commercial and agricultural customers will outpace the state's over 3% yearly growth. Some indicators point to well over double the normal rate. Since 1990, California's commercial and agricultural electricity customers have experienced the nation's fastest growing energy rates. Below is a historical graph.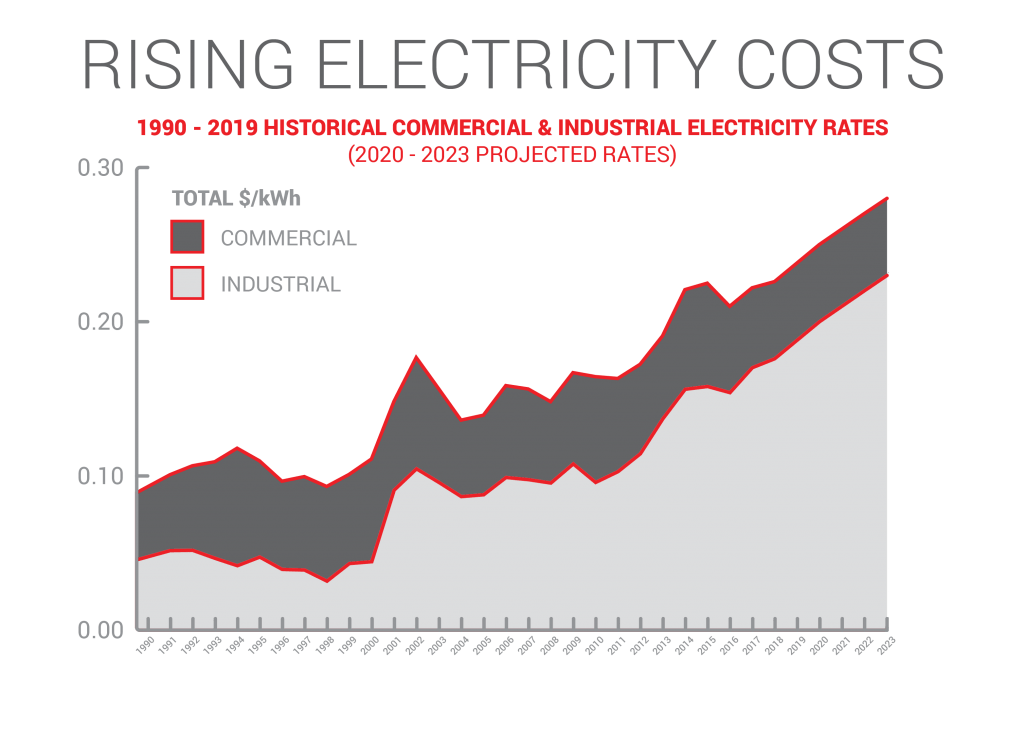 A business that spent an average of $10,000 a month for electricity in 2019 can expect to pay well over that for 2020. Summer rates being the higher outlier for the year. The graph below projects the annual energy cost growth based on the business' 2019 energy costs.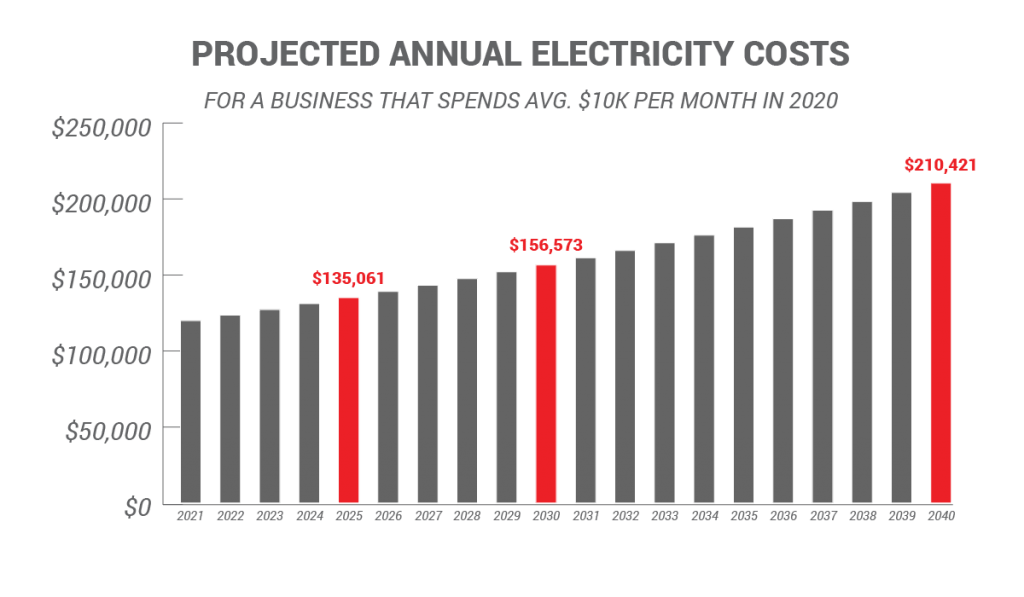 Conclusion:
Rising energy costs are a normal occurrence for California businesses. This year's rates are planned to exceed normal growth by more than double the historical average. This could not come at a worse time. Some businesses are already experiencing the pinch. Commercial solar is an effective option for lowering and almost eliminating your energy costs. 
Below is a list of current Revel Energy customers and the estimated energy usage offset produced by their commercial or agricultural solar system.