What to expect from IOU's and commercial solar in 2020
The past year was a monumental year for California commercial solar and Revel Energy. Here's a recap and what to expect for 2020.
Energy Rates 2019
Staying true to the last 20 years, California energy rates rose for commercial customers at least 3%, some customers experienced much higher growth. Summer rates' Time of Use (TOU) rates hit their highest mark to date. Many customers paid double in summer compared to winter rates.
In 2019, Southern California Edison requested to the CPUC they approve investor returns to grow from 10% to 16% in 2020. They cited the recent wildfires and threats from their outdated grid as reasons. The only way to increase investor returns is higher electricity rates for customers.
Energy Rates 2020
Energy rates are expected to continue the same trajectory, with record electricity bills for summer months (June-Sept) again this year. This means less capital for commercial customers when they need it most.
The San Diego Tribune reported SDG&E is planning a 5% increase in rates for 2020 (higher than the 3% average growth for all IOUs since 1990. Southern California Edison and PG&E are expected to raise rates in a similar fashion.
The graph below tracks energy rates growth for the Commercial and Industrial sectors in California since 1990. All data was collected from EIA.gov.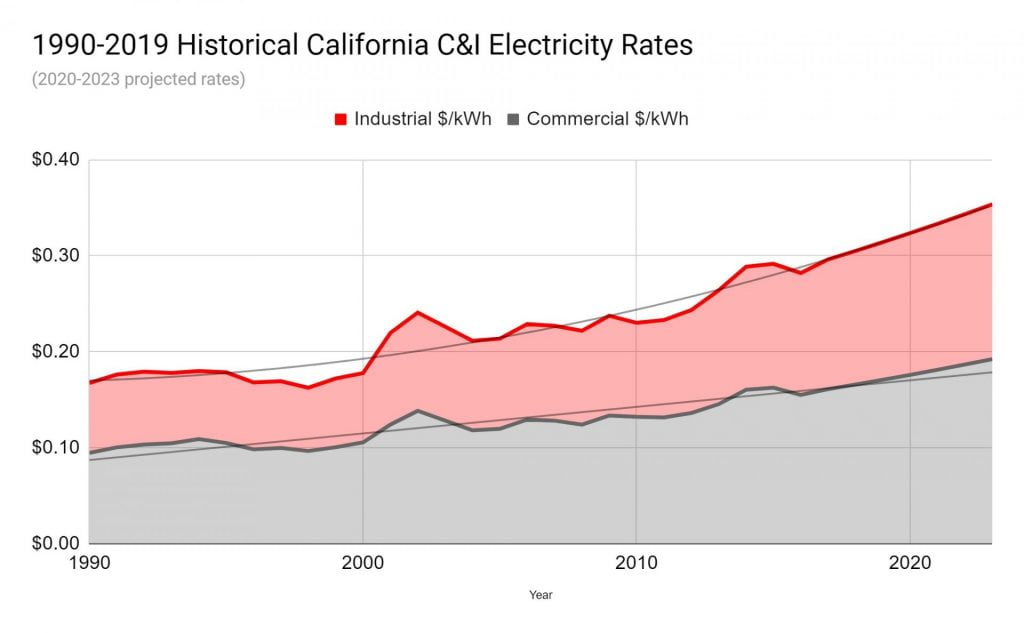 Solar ITC 30% to 26%
2019 marked the end of the 30% Solar Investment Tax Credit for businesses that started their projects before Jan 1, 2020. As expected, the new ITC rate for 2020 is 26% with another step down expected for Jan. 1, 2021 (22%).
This is not all bad news. The 26% ITC for 2020 project is still a significant credit expected to entice California businesses to go solar. Solar is expected to become more affordable with added depreciable value and cost of equipment's continued decrease.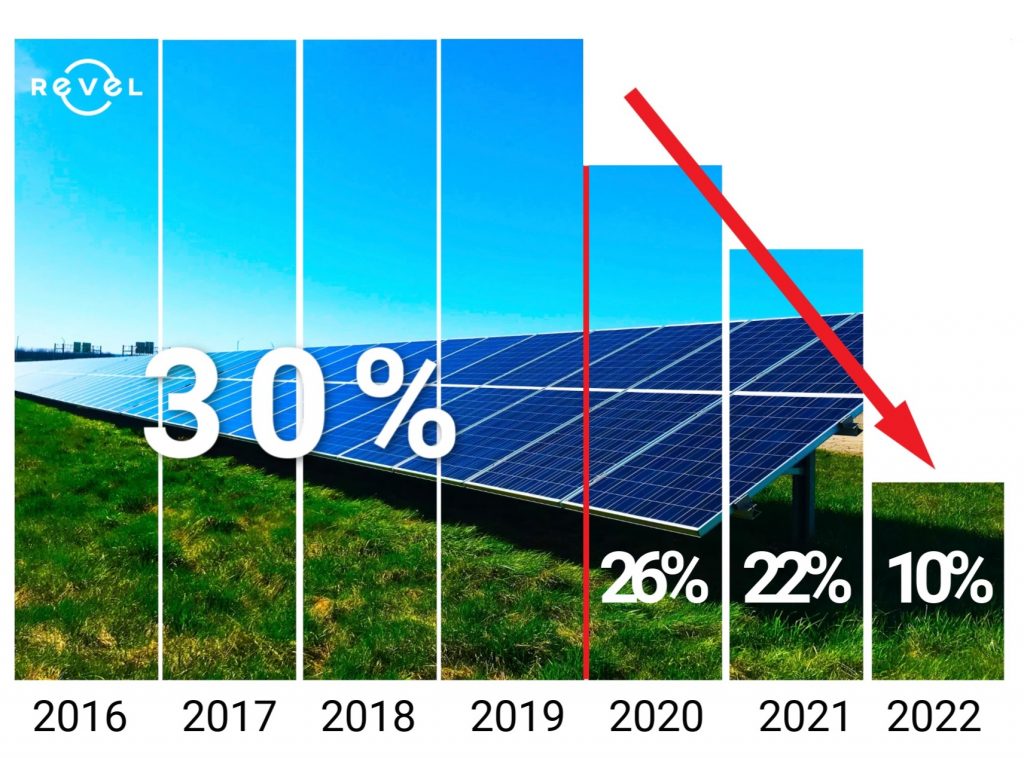 California Electricity Grid 2019
In 2019, the American Society of Civil Engineers rated California's electricity grid the lowest score of all infrastructure, D-. The cited severely neglected lines and outdated grid equipment as some of the causes. The ASCE issued warning for higher occurrences of blackouts and interruptions do to grid overload and severe weather (i.e. high winds which contribute to wildfires).
California Electricity Grid 2020
It is estimated PG&E is working on over 25k miles of powerlines in threatened areas. IOU's are expected to continue to address their outdated grid, an attempt that may be insurmountable due to sheer size and severity. As mentioned earlier, the pressure to maintain investor profits will create a need for IOU's to raise rates in order to pay for the maintenance costs.
Conclusion
California businesses paid their highest rates for electricity in 2019. As for the coming year, electricity rates are not expected to slow their growth. In fact, some parts of the state will see much higher growth than normal.
Customers will need to look out for more Time of Use changes, higher rates and a more demand charges. This higher cost will take capital from businesses not using commercial solar and other renewable technologies.
Businesses with commercial solar will continue to gain a key competitive advantage over competitors, higher gross and net operating margins.
About Revel Energy
Revel is on a mission. Dedicated to renewable energy solutions since 2009, Revel Energy provides Commercial, Industrial and Agricultural businesses with alternative energy beyond solar. Revel stands out from the competition by paying attention to what makes good business sense to each individual client, implementing a wider range of technologies to free up capital and make businesses sustainable and more profitable. CSLB #1038433